Posted by Chuck Bartok | 3 comments
Blogging and The Business Mindset, a synergy? Developing a Business Mindset is an ongoing process. One way to stay focused on your business direction is to Share the progress, share the development of your Venture. Blogging has become the venue for millions to Share their Beliefs and Energy.  Seems like the more you talk about something the more it becomes YOU (holds true to listening, also) the...
Read More
Stay Tuned with our Updates
You Can Build It Talk Show
Thirty Days Has September: First 10 Days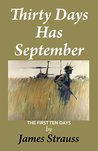 Thirty Days Has September: First Ten Days
by
James Strauss
My rating:
5 of 5 stars
The author shared this story with me in 1970. Thank goodness his wife saved all of his daily letters home. I encouraged him to outline a manuscript. This gripping, no holds barred, Vietnam sage has been waiting publication fro a long time.
On his website it has garnered over 5,500 comments from Veterans who understand the reality of this story.
View all my reviews
Blogroll
Like Us on Facebook
Are you using the Power of Podcasting to Build your Business?

Does Podcasting have a place in you Business Building Social Media Tool chest? We all know the power of effectively using Video in branding and building your business. But before the surge of Video, Podcasting was and still is an effective method of building your Brand, communicating directly with your market base and generate new prospects. […]

James Strauss Writes Gripping Non-Fiction

I had the privilege of meeting James Strauss 46 years ago as he left the Marine Corps. James had a story to share that kept me on edge regarding his experiences in Vietnam He then has since written many short stories and several novels, The Mastodon Series, Vol 1, The Boy was a a sellout […]

What is News, What is Fact?

What is Really News, Really ?   Is it incumbent on all NEWs reporting to be 100% verifiable and totally factual?   First of all I want to thank readers who have continued to visit this site even though I have NOT posted for almost a year. Our page offering the Audio of Think and Grow Rich has […]
Multiply Profits AND Automate Your Business
AWeber's email marketing software makes it easy.

Learn how they can do it for you, too.