Have You Read James Allen's, Above Life's Turmoil?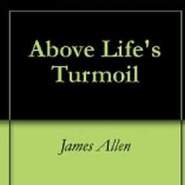 A quick review of James Allen's Above Life's Turmoil, 1910.
Most of you are familiar with James Allen through his famous Book, "As a Man Thinketh".
James Allen was a prolific writer in the early 1900s and wrote in the genre of Wallace Wattles,  Charles Haanel, and others involved in the Modern Thought Movement. Although he was a prolific author there is little known or written about James. In some ways, James Allen is a literary mystery man. His inspirational writings have influenced millions for good. Yet today he remains almost unknown…… None of his nineteen books give a clue to his life other than to mention his place of residence – Ilfracombe, England
Allen's literary career was short, lasting only nine years, until his death in 1912. During that period he wrote nineteen books, a rich outpouring of ideas that have lived on to inspire later generations.
In 1902 Allen began to publish his own spiritual magazine, The Light of Reason, later retitled The Epoch.
His wife renamed the magazine Epoch and continued to publish his magazine after his death.
All that you accomplish or fail to accomplish with your life is the direct result of your thoughts. James Allen
Regardless of his notoriety, I have found his writing beneficial and relevant to the lifestyle I have fashioned from Practicing my Definite Major Purpose for the past 60 years.
The book is available for Free in the download link below.
But before you download and file, listen to the Preface. I am sure it will create a more intense interest to READ the book and assimilate the premise.
If you are still interested in this dynamic content, Download at Button.
After you have read come back and Comment.
Share your feeling on how these words have impacted YOU:
50+ year veteran Entrepreneur. My lifestyle was set in 1960 after reading what I call the Self-Improvement Trilogy. The three books are Think and Grow Rich, The Master Key and the Miracle of Right Thought. Free copies are available throughout this site.
My definite Major Purpose in Living a Life Full of Freedom and Helping Others
Follow my blog with Bloglovin